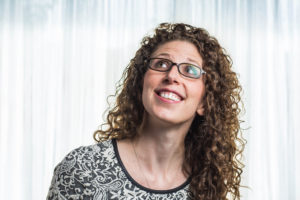 Anna Priemaza grew up next to a field of cows, in a town with horse-and-buggy parking at 100% of the town's two stores. She spent her days lying in a hammock under her tree fort, devouring book after book, and her nights watching her siblings play video game after video game.
For university, she moved to a city on a lake, where she studied literature and walked to her classes with her face in a book, and was somehow miraculously never hit by a car.
For law school, she moved across the country to an even bigger city, where she learned to knit and fell in love. And she realised that being in love meant she was tied forever to that new city called Edmonton, Alberta, so she settled in and wrote a book set there. And knowing she lived in the same city as her characters Kat and Meg made her feel more at home, even though there were no cows and no lake.
So now Anna is a young adult author, lawyer, and university instructor Edmonton, Alberta, where she lives with her husband and a head full of characters. She can never quite remember how old she is, as she knits like an old lady, practices law like an adult, fangirls over YouTubers like a teen, and dreams like a child.
Anna is represented by Lauren Abramo at DG&B Literary Management.
Subscribe to my Newsletter for updates on books and more!