THE FORGOTTEN MEMORIES OF VERA GLASS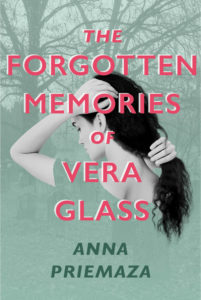 A mind-bending YA novel about a world where everyone has a bit of magic in them—but some magic is being used to change the world in unspeakable ways
Vera has a nagging feeling that she's forgetting something. Not her keys or her homework—something bigger. Or someone.
When she discovers her best friend Riven is experiencing the same strange feeling, they set out on a mission to uncover what's going on. Everyone in Vera's world has a special ability—a little bit of magic that helps them through the day. Perhaps someone's ability is interfering with their memory? Or is something altering their very reality? Vera and Riven intend to fix it and get back whatever or whomever they've lost. But how do you find the truth when you can't even remember what you're looking for in the first place? The Forgotten Memories of Vera Glass is a cleverly constructed, heartbreaking, and compelling contemporary YA novel—with a slight fantasy twist—about memory, love, grief, and the invisible bonds that tie us to each other.
Coming November 9, 2021 from Abrams Amulet Books.
Find preorder links on the Abrams Books website.
Find it on Goodreads.
FAN THE FAME
Lainey has made a hug
e mistake. Lugging a camera around a video game convention for her mega-famous brother, aka YouTube streamer Codemeister, sounded easy—but it's a nightmare. Because her brother might be funny and charming online, but around his friends, he's everything she hates: a sexist jerk.
SamTheBrave came to this year's Legends of the Stone con with one mission: meeting Codemeister. Code is exactly what Sam wants to be—and getting his attention could be the big break Sam needs.
ShadowWillow has worked her butt off to be invited to sit on her first-ever panel, but half her fans are only interested in shipping her with Code. Shadow can't stand always being a girl first, a gamer second. Unless she can turn the rumors to her advantage.
Millions of fans see Code as a superstar, but when Lainey catches one of his hateful rants on video, the drama levels up. Because she's determined to teach her brother a lesson—even if it puts Sam and Shadow in the crosshairs.
Out now.
Order now on Amazon (US), Amazon (Canada), Indigo/Chapters, Book Depository, McNally Robinson.
Find it on Goodreads.
KAT AND MEG CONQUER THE WORLD
KAT and MEG couldn't be more different.
Kat's anxiety m
akes it hard for her to talk to new people. The only place she feels safe is in front of her computer, playing her favorite video game.
Meg hates being alone, but her ADHD keeps pushing people away. Friends. Her boyfriend. Even the stepfather who raised her.
But when the two girls are thrown together for a year-long science project, they discover they do have one thing in common: their obsession with the online gaming star LumberLegs and his hilarious videos.
Meg's pretty sure this is fate. Kat doesn't know how to deal with someone who talks faster than she thinks. But if they can stick together and stay out of their heads, they might figure out how to help each other—and build the kind of friendship Kat never knew she wanted and Meg never believed she'd find.
Out now.
Order now on Amazon (US), Amazon (Canada), Indigo/Chapters, Book Depository, McNally Robinson.
Find it on Goodreads.
"Kat and Meg Conquer the World will hit home for anyone who has ever been waist-deep in fandom, doubt, or new relationships; Kat's and Meg's unique voices are outstanding, and their friendship brings this story to vibrant life." (Francesca Zappia, author of Made You Up and Eliza and Her Monsters)
"Inspiring from start to finish. Full of girl power, adventure, heart, and (my personal favorite) video games." (Erin "Aureylian" Wayne, Gaming Content Creator)
"A much-needed portrait of the importance of female friendship in an overstimulating, modern world. A heartwarming, realistically drawn story for fans of Rainbow Rowell's Fangirl." (Kirkus Reviews)
"Kat and Meg Conquer the World has conquered my heart. A hilarious, touching, fandom-fueled book about the struggle to find your place in the world—and the beautiful moment when you realize you don't need to do it alone." (Chelsea Sedoti, author of The Hundred Lies of Lizzie Lovett)
"A funny (and sometimes heartrending) story of two outcasts who form an unlikely friendship. Great for readers who realize that it's okay to be different, that the most lasting friendships are the ones that you have to fight for, and that geeks rule." (Brian Katcher, author of The Improbable Theory of Ana and Zak)
"I can't even begin with my feels for this book. Kat and Meg has everything I want in a story: humor, honesty, hardcore geekery, and characters that make you want to reach through the pages and hug them. This book will stay with you long after you put it down." (Jilly Gagnon, author of #famous)
"A uniquely wonderful portrayal of female friendship—warm and wise and whip-smart. The heart of this book is ten miles wide." (Carlie Sorosiak, author of If Birds Fly Back
Subscribe to my Newsletter for updates on books and more!