June 1, 2017:
It's #happymonth! Throughout the month, you'll be able to find book, preorder, and ARC giveaways on my Twitter, Instagram, or Facebook, so keep an eye out.
#HAPPYMONTH BINGO!
All month long, you can participate in #happymonth BINGO! Download your #happymonth BINGO card just below, and use the same card all month long to complete tasks and win swag!
You can find all the rules on your BINGO card, which you can download here: Happy Month Bingo!
BINGO Schedules (see BINGO card for details):
BINGO Sched A – Authors who provided swag
BINGO Schedule B – POC characters
BINGO Sched C – Disability in Kidlit honor roll
The swag you can win keeps coming in, and it's all awesome! Here's some of it:
May 31, 2017:
Tomorrow is the start of #happymonth, when I celebrate my birthday by giving away all sorts of books, ARCs, and swag from over 30 different YA and MG authors! You can follow along on Twitter, Instagram, or Facebook. Most importantly, check back here on June 1, 2017 to get your #happymonth BINGO card, which you can use to win lots of swag! And join us this evening on twitter for a #happychat!

February 7, 2017:
KAT AND MEG CONQUER THE WORLD has a cover!

October 14, 2016:
Sign up for my Newsletter (scroll to the bottom of the page for the form) to enter to win a Kat and Meg Conquer the World bookmark!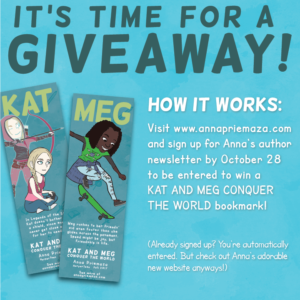 May 27, 2016:
The former If You Can't Fly has a new title:
KAT AND MEG CONQUER THE WORLD.
March 7, 2016:
Debut author Anna Priemaza's IF YOU CAN'T FLY, about two teens who meet working on a science fair project and form the first real friendship either has had by bonding over panic attacks, ADHD, and their mutual obsession with a YouTube star who does walkthroughs of their favorite video game, to Stephanie Stein at Harper Teen, in a two-book deal, by Lauren Abramo at Dystel & Goderich Literary Management (NA).

—Publisher's Marketplace
Subscribe to my Newsletter for updates on books and more!